September 21, 2017 |
Published By Editor | Posted in: Deaths Elsewhere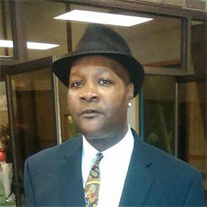 Carl E. Short, 54, of Greensburg, died Thursday September 15, 2017. He was born June 3, 1963, in McKeesport, a son of Larry Short and the late Dorothy Ann Taylor. Carl Short was an ordained minister and committed to community service and helping the lives of others.
The last years of his life were spent helping the lives of people suffering from addiction and mental illness, working with the Democratic Party to promote positive change, and ministering throughout the community. He was an excellent cook, a sharp dresser, and an avid Dallas Cowboys fan. He loved to laugh, make others smile and laugh, and watch scary movies with his family and friends. He loved his children and his grandchildren dearly. In addition to his mother, he was preceded in death by his grandparents, aunts, uncles, and many relatives whom he loved.
Carl is survived by his seven children, Justin short and wife, Paula; Shamira Gelin and husband, Jean; KC Short, Shawn Short, Shakeem Short, Kelli Short, and Lamicah Short; four grandchildren, Jayden Gelin, Ava Gelin, Sophia Short, and Amara Gelin; his uncles James Taylor and Tony Taylor, their children and grandchildren; his aunts Brenda Lawrence and Shirley Weatherspoon, their children and grandchildren; his sister Kimberly Jones and her children, and his siblings, Herman Jordan, Gary Smith III, Lakitta Smith, Kimberly Jordan, Paul Baker, and Malik Smith, as well as many relatives too numerous to mention.
Read More