Gilbert Funeral Home and Crematory
Obituaries | The Tube City Almanac | September 14, 2023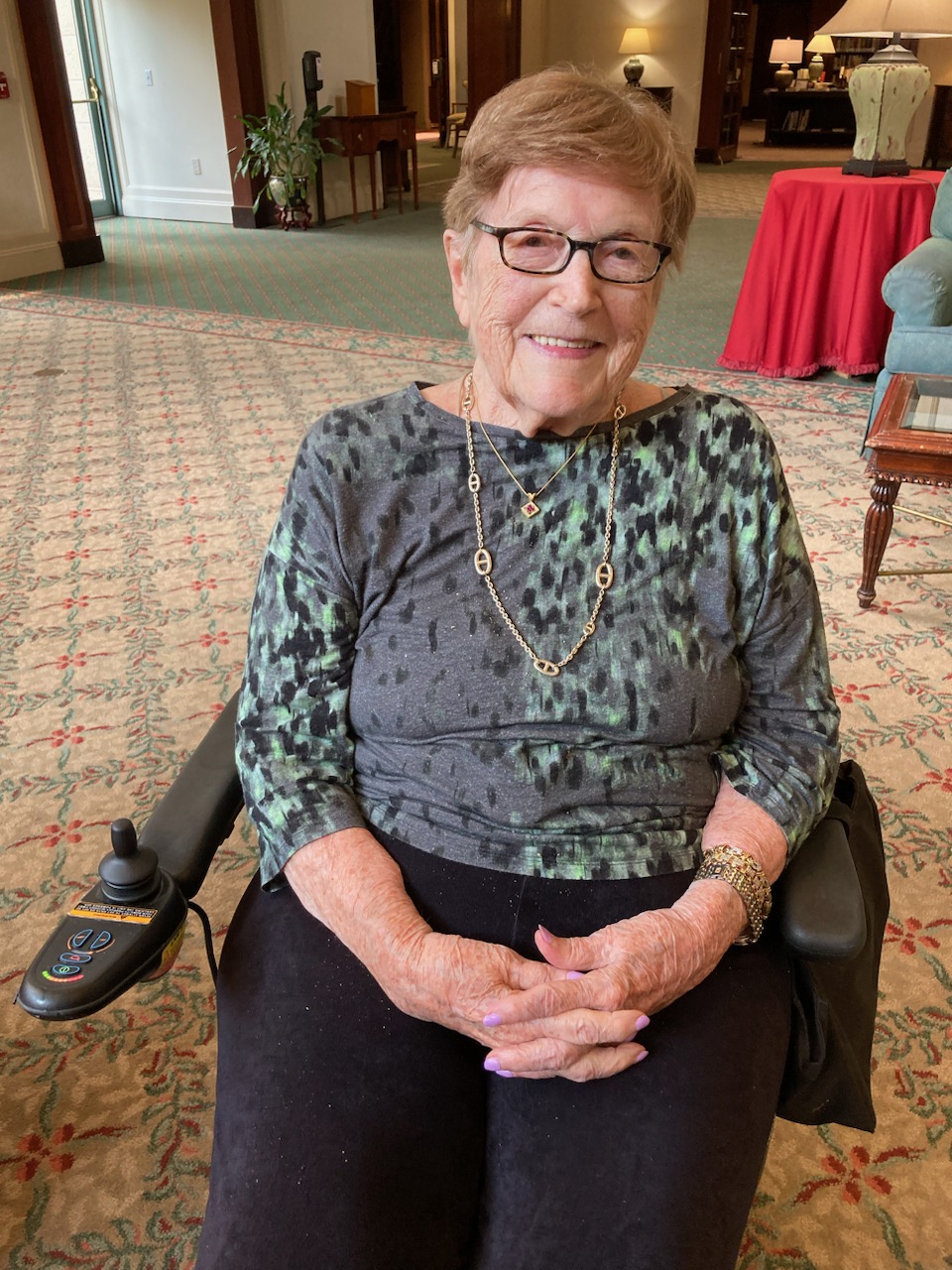 A generation of Post-Gazette readers knew who to turn to for the newest hot spots in Pittsburgh, what to wear to them and —- perhaps most importantly — what recipes and restaurants were on fire this week: Woodene "Woody" Merriman. A "legend" in the ranks of reporters and editors during her tenure from 1977 through 2005, Ms. Merriman took on many roles at the PG, including as restaurant and food critic, lifestyle editor and assistant managing editor."With her no-nonsense, git-er-done style, Woody was a role model," said Marlene Parrish, retired food writer for the PG. "Whatever the subject, she nailed it. Also an author and lifelong feminist, Ms. Merriman, who moved from Elizabeth Township to a retirement home in Chevy Chase, Md., 10 years ago, died on Aug. 19 of complications from an infection. She was 97.

The eldest of four, she was born in an Armstrong County farmhouse, where she grew up during the Depression, along with her grandparents' farm in Vandergrift. "I remember that she told us that they relied on vegetables from their garden and they would share with other families," said her son John, of Aurora, Ill. "They found a way to keep everyone going." She was hooked on journalism by the sixth grade, when she became editor of her school's newspaper, "The Lincoln News," Ms. Merriman recalled in a 2002 story. "I knew I wanted to work for a newspaper," she said in the January 2002 PG story, marking her retirement. She would continue working several more years as a freelance editor. An early feminist, Ms. Merriman, nee Bell, graduated from Penn State University in 1946, after convincing her father to pay $180 — tuition for one semester. Though he had set aside funding for his youngest child — a son — he hadn't anticipated also paying for a daughter's education. At Penn State, she was the first full-time, female editor of the "Daily Collegian." Shortly after her graduation, Ms. Merriman was hired by the former McKeesport Daily News as a general assignment reporter. She met Klein Merriman on a blind date and they wed in 1948, when Ms. Merriman quit her outside job to become a post-World War II housewife, raising four children. "So, 13 years after quitting, I was back at 'The Daily News,'" she recalled in the 2002 PG story. "I was to be the'women's editor,' starting a new page devoted to cooking, fashion, or whatever I thought women would like to read. It would include a column of household hints written under an assumed name, Mary McKee." She also found a foothold in investigative reporting, inspired by meeting Eleanor Smeal, who would go on to become the first national president of the National Organization for Women. "There was a lot to write about," she said. "Women couldn't get credit. So I applied for credit at several stores, refusing to put my husband's name on the application blank, and listing only my own salary. I was turned down by everyone, if I remember correctly. I applied for credit cards. The only one I could get was American Express. I suspect they thought 'Woodene' was a man." By 1977, Ms. Merriman found her way to the Post-Gazette as a reporter and editor, eventually serving as food and restaurant critic.She introduced Pittsburghers to fancy restaurants and sometimes even offered a peek into the lives of famous people — like the time she witnessed former Vice President Walter Mondale trying to demonstrate his grilling prowess for a gathering of food editors. "He had just burned the trout, and the fettuccine was getting too dry. 'How do you like cooking for 79 food editors?' someone asked," she wrote in a June 1980 PG story. "'I hate it,' Vice President Walter Mondale shouted back through the smoke rising from his outdoor grill. He was kidding, of course. Tossing the pasta and the one-liners with equal enthusiasm, Mondale was obviously enjoying his public culinary debut." She even dared to poke a little good-natured fun at the newly elected Gov.Dick Thornburgh during his inaugural ball in 1979. "They whooped it up at the Inaugural Ball last night — but it was all very respectable," she noted in a January 1979 PG story. "After all, they are Republicans." Beyond her work as a dining critic, Ms. Merriman became beloved as a purveyor of the finer things in life — she could always be counted on to elevate the aesthetic or unearth little tidbits of beauty and good taste to share with readers. For example, in one story Ms. Merriman explained the purpose of a "kissing room," as only she could. "That's where proper Victorian young ladies could say good night to their beaus — and still remain proper," she wrote in a September 1978 PG story."The room is tiny and round, with just enough space for two people to sit on the wooden bench along the wall. There are windows all around; mama could see everything from the veranda or the reception hall." She shared nuggets from trips to China, Belgium, Vietnam and especially New York City, where she visited twice a year to report on the latest fashions and trends. One year, bolstered by the shocking resemblance between evening gowns and nightgowns, she bought a clingy, green nightgown for $25 and wore it to an elegant New York City ball, wondering if anyone would notice. They didn't. As a critic, the natural redhead would slip unsuspectingly into restaurants with her disguise — an ever-changing mishmash of wigs, dark glasses and hats — along with her husband. After her husband Klein died in 1990, Ms. Merriman married Carl Benson, who died in 2021. Ms. Merriman, who had a firm policy to never accept free meals or anything gratis from a restaurant or company, often visited the same restaurant twice or even several times if a bad review was in the offing. "She didn't like going by herself, so Woody started inviting Carl out to restaurants with her," said her son, who, like all of her children, calls his mother Woody. "She didn't include people's names in the columns, so she started to refer to him as 'his honor' because of his manners. For a while Grant Street was abuzz with people wondering what judge Woody was running around with. They had some fun with that." Ms. Merriman set a certain tone in her personal and professional life, endearing her to colleagues. "My first job at the PG was working in the features department where Woody was a legend and a great role model. She was smart, precise and, in some ways, a woman ahead of her times in the work/life balancing act of managing a demanding job while raising a large family," said Susan Smith, retired managing editor at the Post-Gazette. "Besides her obvious professional skills, she also was simply fun to be around." Before she shared recipes, they had to be tried and perfected, recalled her son, who was thrilled in his role as guinea pig. "She would pick out what she thought were the best four or five recipes for something and she had to sample them at home with us," he said. "So one famous night, after we tried a number of cherries jubilee, my dad came home from work and asked, 'What's for dinner?' My mom told him and he said, 'Not cherries jubilee again!' We got to sample so many things. It was fun." It wasn't just local readers that Ms. Merriman impressed with her knowledge -- several food critics across the country were agog when she shared the recipe for Frank Blandi's famous Devonshire sandwich. It was reprinted far and wide after the national food editors' conference was held in Pittsburgh in October 1982. She wrote two books about microwave cooking and far from being aghast at promoting what is considered by most as an inferior cooking appliance, recipes from the cookbooks were shared by newspapers across the country. After her retirement, Ms. Merriman spent winters in Hawaii with her son Peter, a chef and restaurateur. "She escaped the Pittsburgh winters," her son said. "Peter built her a very nice cottage at his home in Maui. She had fond memories and affection forHawaii." Mr. Merriman will remember his mother for bestowing on him the gift of her time and singular attention, especially in her later years. "One of the things I loved about her was that when we talked on the phone, I couldn't get her to talk to me about my nephews or nieces," he said. "When we talked, my kids were her main focus. She was a great mom." Along with her sons, Ms. Merriman is survived by her other children Klein Jr., of Delray Beach, FL., and Judy Regan, of Chevy Chase, Md.; her brother Leonard Bell, of Ashburn, Va.; seven grandchildren; and six great grandchildren. Funeral Service will be held Saturday, October 14, 2023 at 2:15 pm. at St. Stephen's Episcopal Church in McKeesport, where Ms. Merriman was a long-term congregant. Inurnment will follow at Mount Vernon Cemetery, Elizabeth Township. In lieu of flowers, Memorial Contributions can be made to the Hawaii Community Foundation or Merriman's Kapalua Displaced Families. Arrangements are by Gilbert Funeral Home and Crematory, Inc. 6028 Smithfield Street, Boston, Elizabeth Township. (412) 751-5000 Drew J. Gilbert, Director. Condolences may be made at Gilbertfuneralhomeandcrematory.com

Originally published September 14, 2023.

<! --- underwriting here, new as of 5-10-2018 -->

Other deaths:
"Florence L. Anderson" || "Catherine "Kay" Chems…"